Check-in procedure at Isha Yoga Center.
Get your bags checked.
After a 20 hours of travel I reached to the ashram.
I went towards the Naga gate but the security guard standing their stopped me and asked me to get my bag checked.
I went back and there was a scanning machine.
I put my bags inside and she asked me " you have perfume?"
I said, "yes".
She said, "Okay" and stick two varified stickers on the bags.
I move towards the gate and he did not even notice the sticker and let me in 🥲. Maybe because he saw it.
Reaching to the welcome point/ reception.
There was a guy coming outside I asked him, "Anna could you please tell me how to go to the reception.
He tried to help me but then he knew I can't figure it out.
He said, "It is complex from here, you better ask someone ahead".
I was just about the go through the Naga gate.
The security guard stopped me.
I said for volunteering.
He asked me my name and place.
Then he found out that I am an odia and he is an odia too. We did talk about our places.
Then he said he is here for last 16 years now.
He noted down something and then call some guards who were going inside and told them to guide me.
I found out they were talking in sambalpuri.
One was from the Bolangir and I dont know about the other.
Then I reached the welcome point and he said wait here, someone will come at VRO desk.
No one was there except cottage reception so I placed the bags and sat there.
2hour long check-in.
I sat there looking towards the VRO desk every two minutes.
I waited from 6:00AM to 8:00AM.
Then a girl came a little bit here and there, filling up two forms, puting a wrist band I was ready.
She gave me a paper and there the locker room and bedroom hall was mentioned.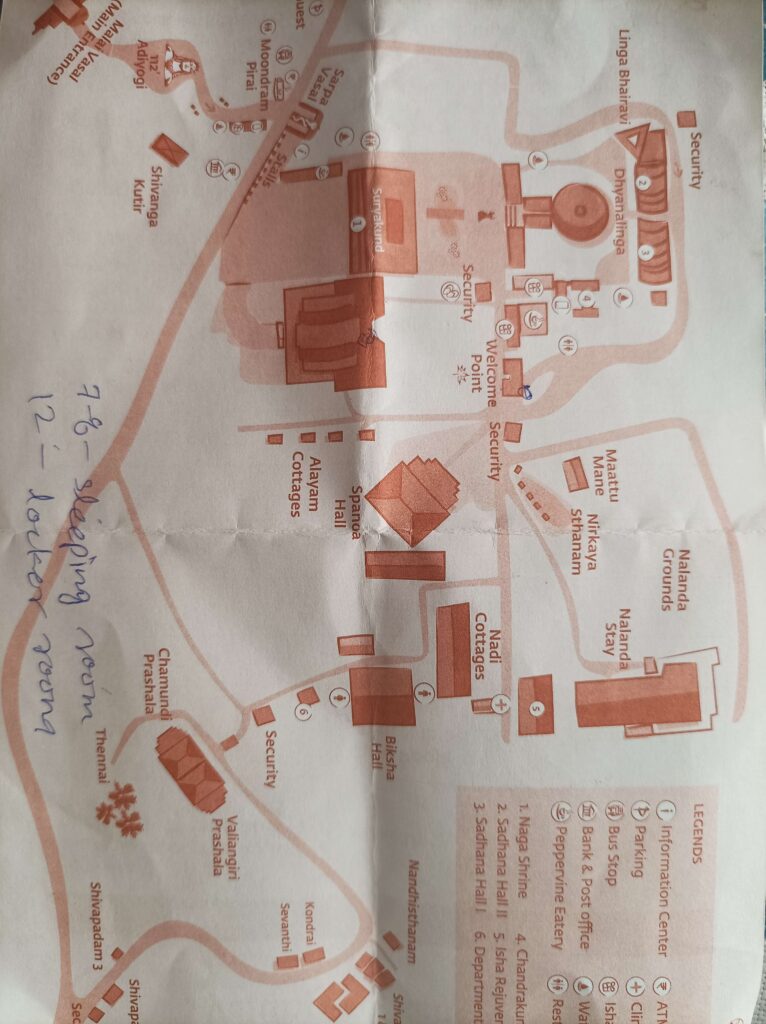 Once it was done she said, you can start volunteering from tomorrow, you can take rest now.
I said, "No, I will come". She did not say anything but she seems to be feeling like " huh… over excited fools"
Then I asked, "When and how?".
She said, "After food you can go"
"and when is the food", I asked.
I would not know If I would not have asked.
She said, "9:50 in biksha hall"
I rushed back to locker room and kept my stuffs there, freshen up and I was ready to explore.
Taste of Isha well-being.
I was going in the direction of biksha hall. I was looking at my map and trying to figure out where is it…?
But people around me are literally rushing in a certain direction.
I just followed them and reached to the biksha hall, cleaned my hands and sat on the sit.
It was a huge hall.
Mats laid in the entire hall in typical indian way.
Plates and glass was already placed.
As everyonr were sitting in row i also went and sat.
It filled up inflash.
I was quick enough to get a sit.
There was a music going on in the background nirvana shaktam and volunteer were serving many kinds of food.
It was pure veg and the best possible receipe that can happen in the world and they also served 5 dishes.
In the middle of the serving the nirvana saktha ends and suddenly a sound raise up "AaaaaaUuuuuuMmmm…" the volunteer who were serving stood still.
I did not understand what is happening!
A beautiful chant happens and then everyone starts eating.
The volunteer again start serving.
They feed you till the throat.
And the taste is such that you will love to eat till there.
First time ever in my life I felt like looking at a receipe book.
And the timing is also very scientific. 9:50 in the morning and 7:00 in the evening.
Well calculated and well structured.
In the morning I could not eat much because I did not eat the previous day but in the evening I ate full stomach.
The timing are such that you must feel hungry before eating and taste of food is such that it will makes your wait worth it.
Once you had the food, you are in absolute bliss and at the door of coming back there would be a beautiful volunteer wearing a genuine smile do Namaskar, a gesture of "thanks for coming".
Dhynalinga.
A linga form took 3 lifetime for Sadhguru to be built.
Often you will hear Sadhguru saying that this is a powerful linga, revibrating and all.
You would never believe anything of that sort.
When I heard sadhguru I knew that I am not that receptive to grasp the revibration.
Then just a meter before entering the dome.
I heard the vibration.
I entered the temple the vibration could not let me stand properly.
It was similiar to standing infront of huge speakers with high bass but no sound coming out of it.
It is not very material in nature but highly practical.
Unknowingly you will touch that and that would be the moment you would realise how strong it is.
More than the linga, the dome fascinated me.
Because I could clearly feel that the energy that I am feeling is such strong because of the structure of the dome.
If it was squre the power could reduced a significant level.
But one thing I found sadhguru was not accurate about is… VIBRATION.
I don't think that is an accurate description of it.
Vibration is when something goes to and fro in single dimension. But here it felt like going radial pumping in a spherical dimension.
It felt more like a live heart pumping.
Technically inside of it, there is a solidified mercury rod but the experience is exceptional.
I would not resist if someone would say that, if you go near shiva, this is what you will feel.
Shiva is not just a man like you and me and according to the description what we have about him. I am very sure this is real.
Speaking about it is very childish, it is something that everyone should experience.
But as I said, it is not material but very much existancial.
Just be there, even unknowingly you hit that dimension, it will just blow you up.
Definitely, this is the possibility.
I don't like to say such things but if i have to give a deacription. It is shiva sitting as a Yogi.
But I was wrong. I thought only dhynalinga is alive but on day 2, I went to suryakund mandap to practice and I experienced a little less bearable yet strong pump.
It means the entire place is alive.
You just have to be receptive enough to grasp it.
This is the place for Yoga. ( full stop )
Sleeping inside smoke.
She wrote, "7,8- sleeping hall". I did not know, which bed?
The bed halls remains locked from 5:15AM – 8:30PM.
When the door unlocked, I saw the entire room is filled with smoke.
Usually, I can't breath in the smoke.
But yesterday, it was not that hard.
There was a huge potrait of sadhguru with a lamp.
I went in in the search of a bed. Found one but the upper one in the bunk bed.
I climbed up and realised the heat is accumulating here. The top layer of the air in the hall is way warm than the bottom one.
Fortunately, there was a 3tier bed and the bottom one had the mattress.
Still, I managed to sleep.
Early mornining when I wake up a few volunteer slept on the floor.
This gave me an absolute relaxation.
The only condition was to make sure your feet are not pointing towards the sadhguru.
He is not physically there but I know for a fact that the potrait is alive for sure.
The entire Space of Isha Yoga center.
I wanted to create a space before I die. It was hard to express in word and sadhguru has articulated this in existancial reality.
What Sadhguru has created, I could do 1/100th in my entire lifetime.
So, this place is not a small thing for me.
Namaskaram.